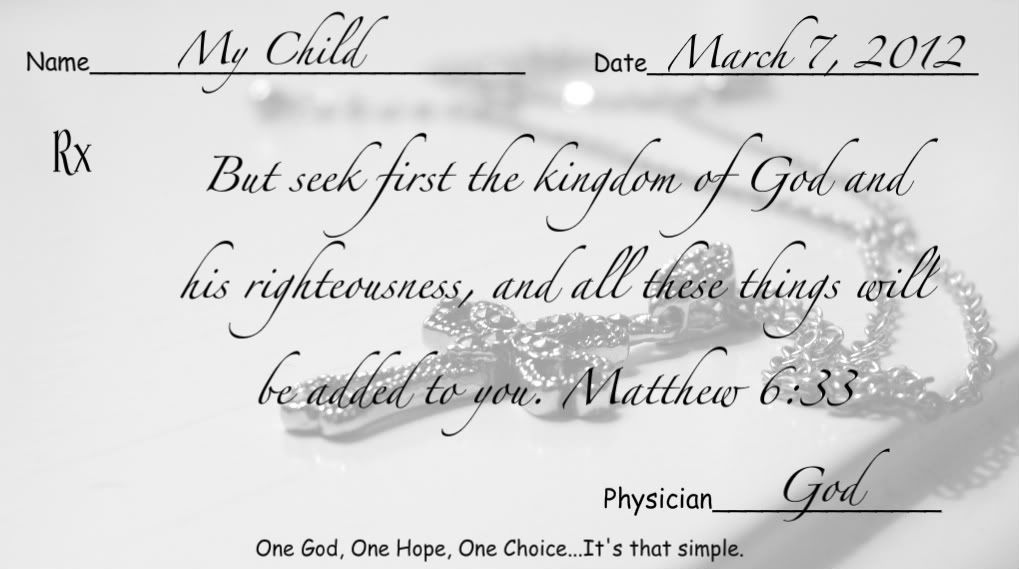 I had an article published at "Inspire A Fire" this week on the addiction part of my story. If you've read my story page on 

here

 

you know my story is full of gut wrenching moments, but the addiction part seems to gain much attention; maybe because I'm a pharmacist, maybe because I'm a Christian, or maybe just because it's the juiciest part of the story. It makes no difference to me, as long as someone is brought closer to Christ through it. 
One of the most important statements I wrote in that article is one that has received several comments: 
"Only when my desire to know His plan for my life became greater than my desire to fix myself, He healed me."
That statement is what I want to focus on today. 
I whole-heartedly believe that this is the secret to a fulfilled life with purpose that has been kept far too secret. I mean, you wouldn't think it's a secret because the scripture tells us right there in Matthew 6: 
But seek first the kingdom of God and his righteousness,
 and all these things will be added to you.
Now I was raised in the church, memorizing scripture along the way, but I'm not sure this verse ever really sunk in. I'd read this verse, but for some reason the verse that I heard in my head was Luke 11:9-10: 
And I tell you, ask, and it will be given to you; seek, and you will find; knock, and it will be opened to you. For everyone who asks receives, and the one who seeks finds, and to the one who knocks it will be opened.
Ask and it will be given to you.
Who can't get on board with that? Just ask. 
But both of these scriptures, Matthew 6 and Luke 11, are instructing us in how to pray. In Luke 11, we are told to be persistent in our prayers. Ask, ask, ask. But we are also told to seek. Seek what? 
Back to Matthew's instruction on prayer: Seek ye first the kingdom of God. 
Maybe this is why we have four Gospels—four accounts of the life of Jesus on earth. God gave them to us to read them all, not just one. But I digress…
When I was fighting seizures, migraines, depression, insomnia, and addiction during my seven years of hell, you better believe I asked. I asked for God to take the seizures, migraines, depression, insomnia and addiction away. I asked to be happy again. When He was silent, I asked for the rapture. I either wanted to be healed, or be gone. I asked and asked and asked. 
But I did not seek first. 
I know God has a plan. I've always known he has a big, all-encompassing, life-long plan. But I never once asked him to show me what it was. I never really had the desire to know my part in His plan. 
When I had my last seizure, on August 4, 2010, I was at rock bottom. Any resilience I might have had was gone. I couldn't eat. I couldn't sleep. I didn't have the energy to even get dressed. I loved my family, but I had resigned to the fact that I was no good for them. Marlee, my 8-year-old, was baptized on August 8, 2010, and it took every bit of strength I had to make it to her baptism. I envisioned spending the rest of my life in some type of extended care facility. It was really that bad. 
I knew this wasn't God's plan for my life. 
For I know the plans I have for you," declares the LORD, "plans to prosper you and not to harm you, plans to give you hope and a future.
For the first time ever, it was my heart's desire to know his plan and purpose for me. It was beyond my thoughts, down deep to the core. What my brain thought was overridden by my deepest desires.What I wanted didn't really matter any more. I didn't care enough about my life for Him to fix me. I had gotten to the end of myself, and the beginning of Him. 
On September 25, 2010, just over seven weeks after that last seizure, He healed me. Just like that
. I woke up that Saturday morning and I was an entirely new person. My mind was clear, I had energy, I felt happy, I wanted to eat, I hugged my kids and called my husband (he was out of town), I called my family and friends, and I knew without a doubt that God had given me a miracle. 
Within three months, I was completely off all medications. It has now been almost eighteen months since I've been medication free, and I can honestly say I've had no cravings for any narcotics (which I never thought I'd be able to say), I've had no seizures or symptoms of seizures, I'm happier than I've ever been, and I sleep like a baby. 
I never want to forget how bad I was, because I never want to forget the incredible strength and mercy of my Savior.
He saved me because I was finally ready.
I was finally seeking Him first, above everything.