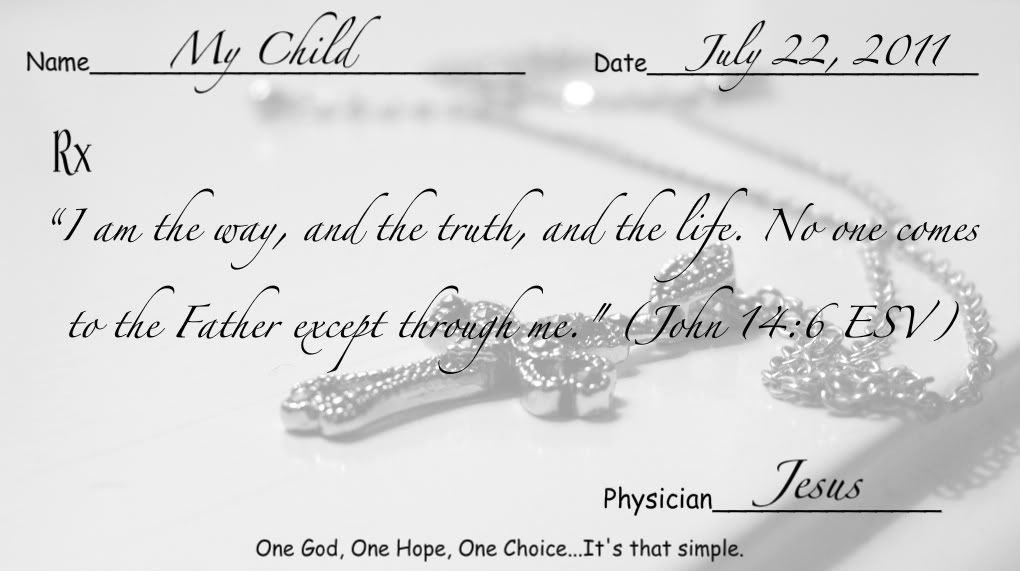 One God, One Hope, One Choice…It's that simple.
Now when you read this statement, you might think, "what does she mean it is that simple?" Believe me, when I was in my state of depression, I would not have thought so either. When I felt like I would rather chop my head off that have my migraine continue, nothing was simple. My well-meaning, glass-always-overflowing teenager would say, "think about it this way, it's better than if you were in a wheelchair or lost your arm or something."
As frustrating as it was, she (or any of the rest of my family) could not understand my pain because they had never experienced depression, and I pray they never do!
The word "choice" is a key word here. I am not speaking of the "choice" to be happy and not depressed, or the "choice" to be cancer free, or the "choice" to be financially successful. There are, of course, steps you can take to help yourself in any of these situations, but there are some conditions beyond our immediate control, not situations we got ourselves into by "choice".
The choice I am referring to here is Christ. He is my choice. Choosing Christ over everything else is really the only choice that matters.
Think about the choices you make in any given day:
"What do I wear today?"
"What do I want to eat for breakfast?"
"Should I start housework first or get my errands done first?"
"What should I cook for supper tonight?"
"How should I spend my time today?"
"Should I go the back way to avoid traffic or stay on the highway?"
"Should I buy this dress or is it too expensive?"
The list is truly endless. Everyone's choices are different from everyone else's, and they are different from day to day. When we were building our house, someone told me that throughout that process, you will make 360,000 decisions. My guess is that it was even more than that!
Make a list of choices you made this week. Looking back over these choices, how many of them were choices that will still be important tomorrow? What about next week? Next month? Ten years from now?
There is only ONE choice that you will make that will be important forever. FOREVER!!!
That is the choice to accept Christ as your savior and let Him have control of all of your life. Doesn't that make all of the other choices seem silly?
There is a forever out there for each and every one of us. The choice you make today, right now, may be the choice that determines your forever.
Jesus said, "I am the way, the truth and the life."
What else is there?